One Stop Order Processing
Automation for One Stop Order Processing

This feature is available in Professional, Premium and Enterprise versions of One Stop Order Processing

You can automatically import and process orders from the different sales channels using the Automation component of One Stop Order Processing. You can automatically import orders from:

Amazon Seller Central
Ebay
SellerDeck
Shopify


Once you have setup where the orders will be imported from (including any passwords etc..) you can create tasks that can automatically import orders and perform order processing tasks on the orders.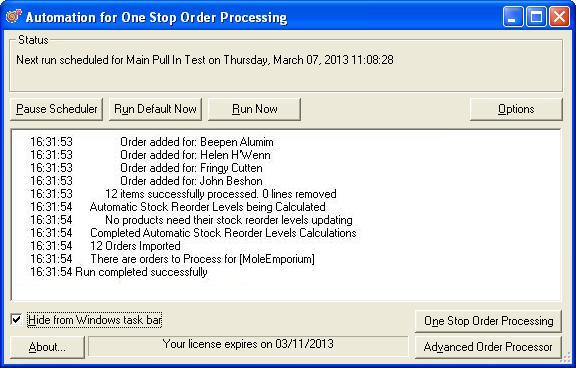 The Status Window
The status window tells you what Automation is currently doing. 
The Command Buttons
The Pause or Start scheduler button allows you to override the default scheduler settings. You may want to pause Automation if you are working.
The Run Now button allows you to start an unscheduled run.  If you have more than 1 action defined you are shown a list of the current actions.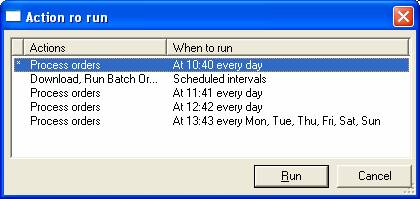 Select the action to run. By default, the default (discussed later) action is selected. The default action is indicated by a *. To confirm the action to run press the Run button or double click on the required action.

The Run Default Now button runs the default task. This is set-up in the scheduled tasks options page.
When a run is taking place you can click on this button to cancel a run.

The OPTIONS button allows you to configure Automation.  You can choose when download and tasks are run.

One Stop Order Processing Button
Some of the Automation for One Stop Order Processing settings are setup by using One Stop Order Processing. This includes the import details and order processing tasks. See One Stop Order Processing for more information

Advanced Order Processor
If you need to provide more advanced order processing tasks, for example, turn the order red if more than 2 items are ordered or calculate the correct box to put the items into you can use the Advanced Order Processor. See Advanced Order Processor for more information
The History Window
The results and progress of each run are displayed in the history window.
Hide from Windows Task bar option
You can choose to not show Automation in the Windows Task bar (normally the area at the bottom of the screen). Generally Automation runs all the time and you may not want it to easily accessible. To display Automation again click on the small icon in the notification area of the task bar.

Menus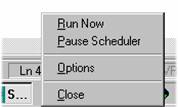 The available options are:
· Run Now. Run Automation immediately
· Pause Scheduler. Pause the scheduler
· Options. Display the options dialog
· Close. Close Automation

Options
---
One Stop Order Processing allows you to import and process orders for Ebay, Amazon, SellerDeck, Shopify, Magento, osCommerce, BigCommerce, RomanCart, eBid, XCart, Oxatis, Groupon, Wowcher, Paypal, Cdiscount. ekmpowershop, Etsy, Flubit, OpenCart, PinnacleCart, PrestaShop, WooCommerce, Weebly, ChannelAdvisor, ASOS Marketplace, OnBuy, Mighty Deals , Mail Order and Telephone Sales
Mole End Group of Companies



Products, plugins and utilities for SellerDeck
All your orders, from all your systems, all together in one simple-to-use application
Integrated label invoice paper and free software packages and templates. Print your invoice and labels at the same time
Print Amazon Despatch Notes with a peel out label with the customer's details on directly from Amazon
Print Ebay Invoices with a peel out label with the customer's details on directly from Ebay