One Stop Order Processing
How to Import Ebay, Amazon, SellerDeck, Shopify, Magento, osCommerce, BigCommerce, RomanCart, eBid, XCart, Oxatis, Groupon, Wowcher, Paypal, Cdiscount. ekmpowershop, Etsy, Flubit, OpenCart, PinnacleCart, PrestaShop, WooCommerce, Weebly, ChannelAdvisor, ASOS Marketplace, OnBuy, Mighty Deals , Mail Order and Telephone Sales into QuickBooks Self-Employed

This feature is available in Professional, Premium and Managed versions of One Stop Order Processing
This solution uses One Stop Order Processing and QuickBooks Self Employed

You can import your Import Ebay, Amazon, SellerDeck, Shopify, Magento, osCommerce, BigCommerce, RomanCart, eBid, XCart, Oxatis, Groupon, Wowcher, Paypal, Cdiscount. ekmpowershop, Etsy, Flubit, OpenCart, PinnacleCart, PrestaShop, WooCommerce, Weebly, ChannelAdvisor, ASOS Marketplace, OnBuy, Mighty Deals , Mail Order and Telephone Sales into QuickBooks as a series of Invoices, into a selected account. You can import all of your sales via CSV file in to the online system
The following instructions explain how to set this up.

1 If the QuickBooks Self Employed view isn't available you can Import the view from the installation directory (e.g. C:\OSOP\Main). For information on how to import views click here.

The View to import is QuickBooksSelfEmployed.mev
2 Click on the Export Orders button (

) and select the Quickbooks Self Employed link. This will create the file C:\OSOP\Orders. If this is the correct file location go to step 3.

If you want to change the filename or other setup select the QuickBooks Self Employed view and select the View->Change Export Options Menu.

This will display the Export orders details dialog.

Click on the OK button.

3 Log in to Quickbooks Self Employed using the following link:

https://selfemployed.intuit.co.uk/login

4 Click on the Transactions tab

Click on the drop down bar on the top right on the Transactions page and select Import Transactions, shown below.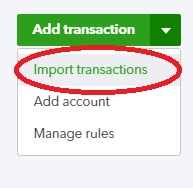 5 Select Import older transactions, shown below.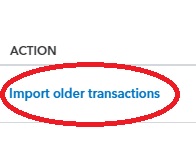 6 Click Browse and Select the C:\OSOP\Orders.csv file, shown below.

7 Make sure the headers match the correct field names, shown below.

8 Click the Import button.
If you need to change any of the values (or add in your own rules or macros) you should customize the current view and change the default values assigned to the Fields shown above. For information on how to change values in views click here.

8 In Quickbooks, you will then need to review the imported orders and select either Business, Personal, or Split. Alternatively you can create rules that automatically do this for you upon import. You can find out more about setting up rules in Quickbooks Self Employed here

---
One Stop Order Processing allows you to import and process orders for Ebay, Amazon, SellerDeck, Shopify, Magento, osCommerce, BigCommerce, RomanCart, eBid, XCart, Oxatis, Groupon, Wowcher, Paypal, Cdiscount. ekmpowershop, Etsy, Flubit, OpenCart, PinnacleCart, PrestaShop, WooCommerce, Weebly, ChannelAdvisor, ASOS Marketplace, OnBuy, Mighty Deals , Mail Order and Telephone Sales
Mole End Group of Companies



Products, plugins and utilities for SellerDeck
All your orders, from all your systems, all together in one simple-to-use application
Integrated label invoice paper and free software packages and templates. Print your invoice and labels at the same time
Print Amazon Despatch Notes with a peel out label with the customer's details on directly from Amazon
Print Ebay Invoices with a peel out label with the customer's details on directly from Ebay